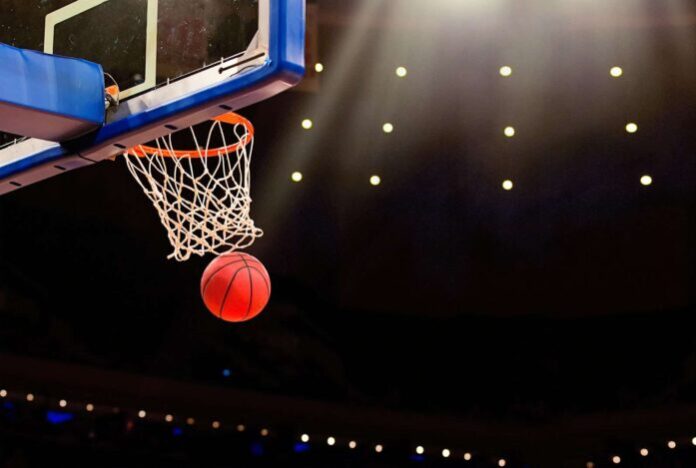 If you ever get a chance to play basketball, you will learn how attractive and loving sports it is. Besides, it is attractive this sport needs practice and daily drills in your backyard to reach the top.
Our Pick
Amazon's Choice
Good Pick
Don't Miss
Silverback NXT 50" Backboard Portable Height-Adjustable Basketball Hoop Assembles in 90 Minutes
SKLZ Pro Mini Basketball Hoop with Ball, Standard (18 x 12 inches)
Spalding NBA Slam Jam Over-the-Door Hoop
Franklin Sports 54132X Over The Door Mini Basketball Hoop - Slam Dunk Approved - Shatter Resistant -...
Our Pick
Silverback NXT 50" Backboard Portable Height-Adjustable Basketball Hoop Assembles in 90 Minutes
Amazon's Choice
SKLZ Pro Mini Basketball Hoop with Ball, Standard (18 x 12 inches)
Good Pick
Spalding NBA Slam Jam Over-the-Door Hoop
Don't Miss
Franklin Sports 54132X Over The Door Mini Basketball Hoop - Slam Dunk Approved - Shatter Resistant -...
So if you want to become a pro in this sport, you should have a basketball unit in your home or backyard. But finding the best basketball hoops is difficult due to the plenty of options available in the market.
But you don't need to worry. Our team, after thorough research, compiles the list of best basketball hoops of 2023 available in the market.
List Of Top 9 Best Basketball Hoops in 2023 :
1. Silverback NXT Basketball Hoop (Best Overall)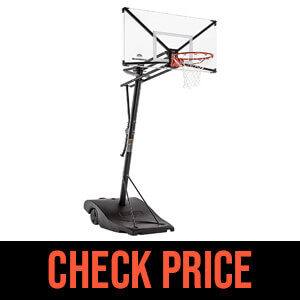 When it comes to strength, stability, and engineering Silverback NXT basketball hoops stay at the top of the list. Portability and height adjustment features make it more attractive.
Quick, easy assembly and effortless transportability help players to change the position of this hoop according to the need of the game.
Features :
1. Unmatched stability
Its 35 gallons base and steel base frame gave it more ground grip. While playing around, it barely moves due to power shots. The base steel frame attached with a steel pole provides greater strength to the whole unit. A slanted pole helps in even weight distribution across the base.
But the other thing that makes it attractive is its big wheels, which makes its movement easy and convenient.
2. Infinity edge
The backboard of this NXT hoop has no frame at its edges but has new infinity-edge finishing, which provides a sophisticated look. But the extra-wide 54 inches backboard provides excellent graphics and a more professional look.
3. Changing height facility
Height can be changed from 7.5 to 10 feet (6 inches increments) according to the need of the game and players. So height adjustment is effortless as it turns with one hand by using a back handle.
4. Movability
The sloped design of the base helps any person to move easily compared to other traditional hoop bases, which are difficult to move. So the rear kickstand behind the wheels prevents the hoop from tipping over while moving to another place.
5. Quickplay
NXT basketball hoop comes with partially assembled parts, so assembly becomes more convenient; all you need is few tools. So it takes only 90 minutes to assemble all the parts and start playing.
Pros
Easy movability

Steel base structure

Ultra-stability

Height adjustable

Easy assembly
2.
SK

LZ Pro Basketball Hoop (Best Economical)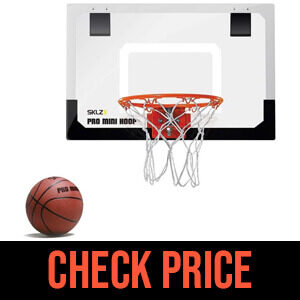 A premium product from a famous brand SKLZ is available at an affordable price and keeps your basketball passion alive at home and office. So it is easy to set up in no time and easily mount on the door where you can play shoots while sitting on your bed.
It is available in four variants, but the standard variant is not only the best seller but also has a good rating as well.
Features :
1. Size
The standard variant comes with 18 inches by 12 inches backboard, which is neither too small nor too large. As far as steel rim is concerned, that is 9 inches in diameter, and you can practice different shorts with 5 inches rubber basketball.
2. Durability
The polycarbonate shatter-resistant backboard makes it durable for dunks and other shorts. When it is mounted on the door, its foam padding protects the door from severe impact. So high graded steel rim is break-proof and comes back to its original position after every basket.
3. Portable
This variant consists of a backboard and steel rim, so you can easily carry it with you to your office or from one room to another.
Pros
High grade steel rim

Fit on wall as well

Affordable

Easy to assemble
3. Lifetime 44 Portable Basketball Unit (Best Outdoor)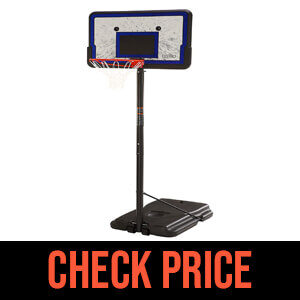 Lifetime is a reputable and old company in the basketball hoops business. Hence they manufacture durable products for their clients and stay at the top of the basketball industry.
This product is portable and can be easily carried away from your backyard to the other court. But unlike ground anchor hoops, this portable basketball hoop can easily roll on the ground, and you can position it at a suitable place in your backyard.
Due to their adjustable height system, different age group players can enjoy and practice their dunk and freestyle shots.
Features :
1. Height adjustment
This basketball hoop is made for a different age group, so it features height adjustment. So telescoping post allows height from 7.5 to 10 feet, and adjusting height is effortless, takes no time, and requires no tools.
Aspiring dunkers can progressively increase hoop height and practice their different shots. That is why different ages and heights players can play.
2. Base stability
When you dunk on this Lifetime basketball system, it barely moves from its position and gives you a better experience. So all you need is to fill its 27-gallon base with sand and water, by doing this its weight increases and provides stability while playing.
3. Impact backboard and rim
The polyethylene backboard of 44 inches bears impact when dunk, and virtually unbreakable. So, you can practice different shots without the fear of breaking.
The extremely stable classic black rim of 18 inches with half-inch steel braces and a 50-gram net, makes it near to a professional basketball hoop.
4. Weather-resistant
If this hoop is used as an outdoor unit, don't worry, as this Lifetime basketball unit is all-weather resistant, black powder-coated, and UV protected. So high-grade plastic material not only resists cracking and chipping but also protects graphics from being faded.
5. Warranty
Lifetime adjustable height basketball hoop system comes with a five-year warranty, which makes it more attractive to buy.
Pros
Easy to move

No leakage in the base

Nicely built

Weather-resistant

Comes with warranty
4. Spalding 56099 over the Door Unit (Best Simple)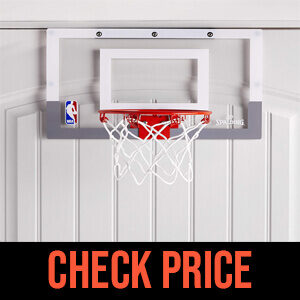 The replica of NBA basketball units provides the same fun as the professional basketball backboards give. So with this unit, you can keep your basketball passion without going to the actual court.
This Spalding unit comes with a 5 inches rubber basketball, which looks like an actual NBA ball. So, with this unit, you can play shots while sitting on your chair in the office or your bedroom.
Features :
1. Board size
Spalding over the door unit comes in 18 inches by 10.5 inches backboard size. So this backboard is shatterproof so you can dunk easily. But the backboard has a hook on its back and can mount on the door easily for indoor play.
The steel rim is actually break-proof and 9 inches in size. So, 4 or 5 inches ball can be fit for any shots.
2. Unit included
The package included not only the backboard unit but also has a 5 inches rubber basketball replica of a professional NBA ball.
Last but not least, assembly tools are also supplied with this package that helps you in hooking the backboard on your door.
3. Protective padding
As this unit is mounted over the door so, Spalding provides padded hooks that do not cause any scuffing to your doorways. Enjoy your basketball mania without any fear.
Pros
Padded door hooks

Affordable

Exact replica of professional NBA unit

Shatterproof backboard

Easy to assemble
5. Lifetime Dark blue Portable Basketball System (Best look)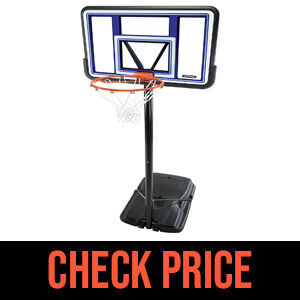 Lifetime is a famous brand for making sports gear, and basketball hoops are the thing in which this brand ranks at the top.
This portable unit is suitable for beginners who like to practice different shorts. So the rim of this hoop is not breakaway, as the beginners don't play high power shots, so this unit is not for professionals but highly suitable for new gems.
Features :
1. Dimensions
The lifetime unit consists of a large backboard of 44 inches. So this backboard is built up with shatterproof acrylic and farmed with high impact polyethylene material. But the backboard is nearly unbreakable and provides a good appearance as well.
Base dimensions measure 43.2 x 30 x 6.5 inches. A 27-gallon base filled with sand or water while playing provides stability and stick to its position.
Rim is orange in color, made up of steel, and having dimension 3.5 inches x 2.75 inches.
The Pole diameter is 2.75 inches and has telescoping height adjustment features. So height can be adjusted from 7.5 to 10 feet, depending upon different age players.
Overall weight is around 55.8 lbs." separate net weight 50 grams.
2. UV protected
Sometimes, after playing, this unit is left behind in the backyard or may face harsh weather conditions and don't need to worry. This basketball hoop is weather-resistant, the backboard is UV protected, and so the graphics remain the same and don't fade.
The three-piece steel pole is coated with black powder that makes it rustproof and durable.
3. Height adjustment
Height can be adjusted by using its telescope feature. 7.5 to 10 feet height changing capacity makes it suitable for kids and teens as well.
4. Strong base
The risk of the shaking of the hoop is reduced due to its 27-gallon extra-wide base. All you need is to fill this base with sand or water before playing. When base weight increases, more grip this unit attains, and you can play or dunk freely.
The base is made up of high graded plastic, which resists cracking and leaking. If used carefully it lasts long years.
Pros
Adjustable height

Easy to assemble

Rust and UV protected

Easily movable

Strong base for better stability
6. Franklin Sports Over the Door Basketball Hoop (Best Indoor)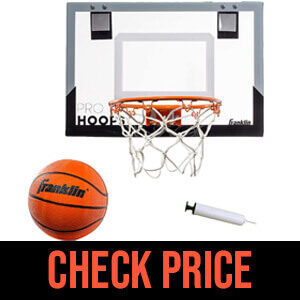 Franklin Sports is an old brand that started in 1946, and now it is famous for its sports gears and ranked among the top brands found today.
This brand provides over door basketball hoop for indoor play. So you can easily hook this basketball hoop on your door and let the fun begin. The pump and ball are included with the package.
Features :
1. Slam Dunks
Either you are a beginner or professional if you dunk hard and like power shots, this hoop unit is made for you. Hence this basketball hoop is loaded with two springs, which makes it perfect for the slam dunk.
2. Legit setup
In this reliable over-the-door unit, you will get 5 inches rubber basketball that you will basket in 9.5 inches steel rim. Eight durable loops of the net are also attached at the rim base.
3. Shatterproof backboard
Shatterproof wide backboard comes with dimensions of 17.75 inches x 12 inches. So the backboard is strong enough to bear the hardest shots.
4. Foam backing
As this hoop is door-mounted, so Franklin sports provide half-inch EVA foam around door hooks. This protective foam saves your doorways from damage.
Pros
Dunk approved

Dual spring rim for dunking

Easy to assemble

Foam padding

Ball and pump included

Affordable

Shatterproof backboard
7. Step2 Pro Basketball Hoop Set (Best for Preschoolers)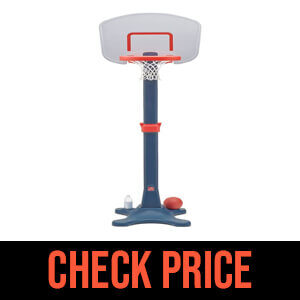 Step2 basketball hoop is designed for toddlers and preschoolers, who want to be active all the time. So this basketball unit works indoor and outdoor as well. The height adjustment feature allows this hoop to grow with your children.
Outdoor basketball activity with friends and family develop the motor skills of your baby and improve his communication skills. Preschoolers also learn how to basket and dunk by daily practice at home.
Features :
1. Grow with babies
Height adjustment is a very beneficial feature this pro basketball hoop has. Toddlers and preschoolers grow very fast, as this is the best age to develop physical strength.
The height of the hoop can easily increase according to the height and age of the players. Elevation ranges from 48 inches to a maximum of 72 inches. That's why this hoop set can serve your babies for years.
Gross motor skills are developed in growing toddlers, which helps them in better understanding and problem-solving. So if you play outdoors with a friend's communication and teamwork skills also improve.
2. Base stability
Extra stable four projection bases can work well when dunk. The base can fill with water (2.5 gallons) or sand (30 lbs.) for better ground grip.
Another feature of this base is that it has a bottle and ball holder gear as well. Preschoolers love to put their stuff in them while playing around.
3. Toddler's friends
Breakaway rim and extra-wide backboard make it toddlers and preschoolers friendly. Plastic material and dunk approved rim allow children to shoot and dunk freely.
4. Basketball included
When you receive a package, you will find a 15.2 cm basketball in it"all you need a pump to inflate the ball and play shooting.
Pros
Easy assembly

Ball included

Height adjustment

Bottle and ball holder at the base

Lightweight

Sand or water-filled option available
8. Lifetime 1558 Basketball System (Best for Professionals)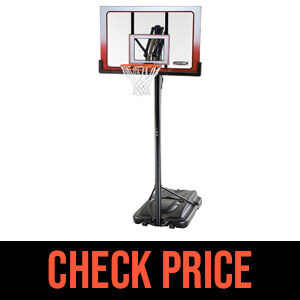 Here is another great product from Lifetime, which has a Slam-It rim and also portable. So, you can place this basketball system in your backyard or arena. If used outdoors, it has a weather-resistant coating and nylon net, which is weatherproof as well.
This product from Lifetime is made for heavy-duty, so you can practice your dunk or drill slam as much you want.
Features :
1. Action grip height adjustment
Lifetime offers an adjustable height option for different age group players. You can adjust the height from 7.5 to 10 feet. Height can be easily changed by using an action grip on its rear side. It is as convenient and straightforward as you can do it by using only one hand.
2. Polycarbonate backboard
It has extra-wide 52 inches polycarbonate backboard, which is steel-framed. But shatterproof backboard with attractive graphics gave it a more professional look. So UV-protected backboard increases its lifespan by protecting it from scuffing and graphics from fading.
3. Ground grip
The base capacity of 35 gallons, either filled with water or sand, gives more ground stability so that you can dunk easily. The wheel rolls well on the ground, so you can change the hoop position according to the area or place the system back in the garage if not used.
4. Rust resistant
The frame is nicely finished with powder coating, which makes it rustproof. The 3.5 inches round pole consists of three pieces and is also powder-coated; that's why weather resistant as well.
5. Slam-It rim
In modern basketball, dunking and slam are very common, that's why Lifetime installs slam-it rim. So Stainless Steel rim with two double compressions springs that makes dunking convenient. Lifetime offers a 5-year warranty of the system.
Pros
Portable

Shatterproof polycarbonate backboard

Slam-It rim

One-hand height adjustment action grip

Weather and rust-resistant
9. Nova Microdermabrasion Kids Basketball Hoop Stand (Best for Kids)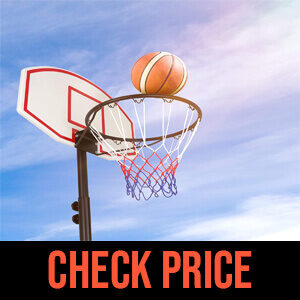 Professional grade basketball hoop for kids from Nova Microdermabrasion is the ultimate solution for basketball enthusiasts. You can play by this unit either indoor or outdoor and the poolside as well. Kids practice dunk and gain experience by playing hours in the backyard.
This basketball unit gives the professional basketball experience that your kids want. Develop their motor skills, and kids learn how to play in the team.
Features :
1. Play where you want
This unit is lightweight and portable, so you can easily carry it to your backyard for team play. If kids want to play inside, it is easy for the parents to move. Poolside play is also feasible as most parts of the hoop are rust-resistant.
2. Hoop dimensions
The backboard is built up with high-grade polyethylene, which is 27.9 inches x 17.7 inches, while the thickness is 1.2 inches.
The rim diameter is around 17 inches, made up of solid steel (weather resistant) with weld steel hooks.
The base's dimension is 17.75 inches x 29.5 inches x 5 inches, and have a capacity is 9.53 gallons of water. For kids, this base capacity works well so that they can slam and dunk fearlessly. The base is equipped with heavy-duty wheels that roll easily on the ground.
3. Adjust the height
The rust and weather-resistant steel pole with telescoping height adjustment feature changes the height from 5.5 to 7 feet according to the age of the kids. So adjusting the height is so easy, and any kids can change it by themselves.
4. Durable solid structure
Nova basketball hoop is nicely made and has a very durable structure for basketball freaks. Steel pole and rim, high-density backboard, and weather-resistant net and steel structure made it a perfect choice for kids.
Pros
Easy to move

Easy to assemble

Affordable

Durable solid unit

Weather and rust-resistant
Things to Consider while Choosing Best Basketball Hoops: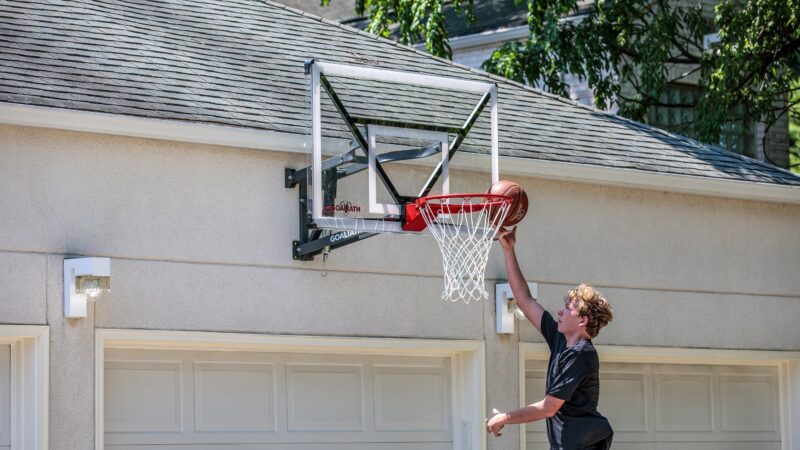 Basketball is one of the best games a person could play. But you need to know how to play it, for this you have to buy a basketball hoop. Either it is a door-mounted or portable or court hoop. But which hoop is best for you is a serious question that comes to mind while you are about to buy a basketball unit. There are plenty of things that have to be considered before buying.
So, our team, after thorough research, lists some factors that may help you to find the best basketball hoop for you.
1. Age group:
First of all, you should know your need, either you are buying a basketball hoop for your kids or yourself. If purchased for toddlers or preschoolers, the indoor unit is the best option. You can mount a hoop on your door so kids can play easily. If you have a backyard where you permit your kids to play, you have to buy a portable unit that you can easily move.
If you want to buy a unit for yourself, then you know your play area. Either you love to play outdoors, or you want to play while sitting in your bedroom. Buy according to your need.
2. Height:
Different height groups need different hoop heights to play conveniently. If you want to buy a hoop unit for a diverse height group, you need to buy an adjustable height basketball hoop. You can easily adjust the height for yourself and the kids as well.
3. Location:
If you have a flat backyard or you are near to any court, then you need to have a portable unit, whom you drag to your backyard. If the backyard is not good for basketball then you can buy an indoor unit and keep your basketball passion alive.
4. Type of backboard: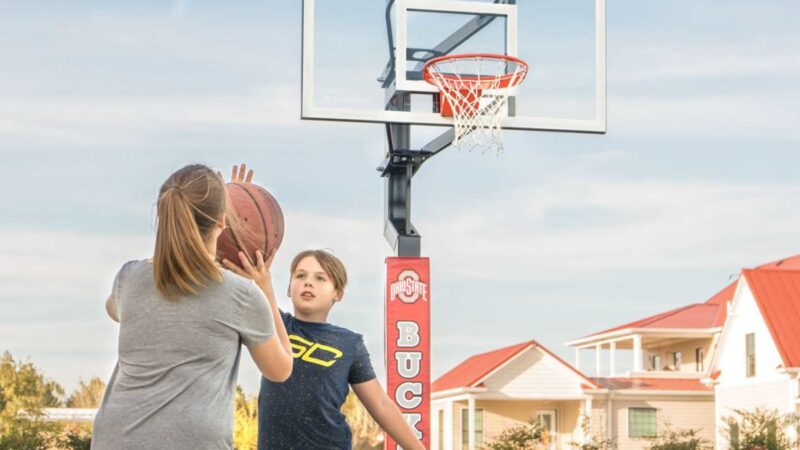 Usually, the backboard is made up of three types of material: acrylic, tempered glass, polycarbonate, or polyethylene. Polyethylene is an affordable and durable plastic material that works well for players who are new in this game. It lasts several years but is not suitable for a professional.
Acrylic backboards are nearer to professionals and have more rebound as compared to polyethylene. But compared to tempered glass, it is lightweight, so does not support heavy backboard weight. Lightweight is also vulnerable to heavy wind.
Tempered glass is generally used in a professional NBA game; it is heavyweight and resistant to any scratching. On the other hand, it is glass so it can shatter due to more powerful shots and is expensive as well.
If you are a beginner and want to play outdoors, acrylic is the most suitable option for you.
5. Size of backboard:
In the market, different size backboards are available ranging from 44 inches to 60 inches. For home use, 44 inches to 52 inches backboard is ideal. But it should have padded foam for door protection.
For outdoor best basketball hoops, 54 to 60 inches backboard is good, to begin with. Just let you know professional NBA players use 72 inches backboard.
6. Breakaway rim:
If you dunk well and like to slam, then you need to buy a dunk-approved breakaway rim for a better experience. For the beginner's steel rim with spring is good.
7. Weatherproofing:
If you decide to buy a portable basketball hoop from this article on the best basketball hoops for outdoor play, you need to check one thing whether it is rust or weatherproof or not. Most outdoor unit is structured with steel frame and pole. If they are finished with rust and weatherproof coating, then you are good to go with your choice.
8. Base stability:
For the best basketball hoops, you should check the base capacity of the system. If you are more professional and like to dunk and slam then you should buy a heavy capacity base unit. In the market, different base capacity units are available, ranging from 27 gallons to onward.
The sand serves better than water in the base. More weight of the base, the more stability you should get. But, the bigger the base may cause difficult movability. So, buy a unit that has a good heavy-duty wheel if you buy a big bottom unit.
9. Pricing:
Pricing is critical in buying any product. Usually, the basketball hoop system ranges from 30 bucks to 1500 bucks. So if you have no budget issue, you can buy a durable and more stable product.
FAQs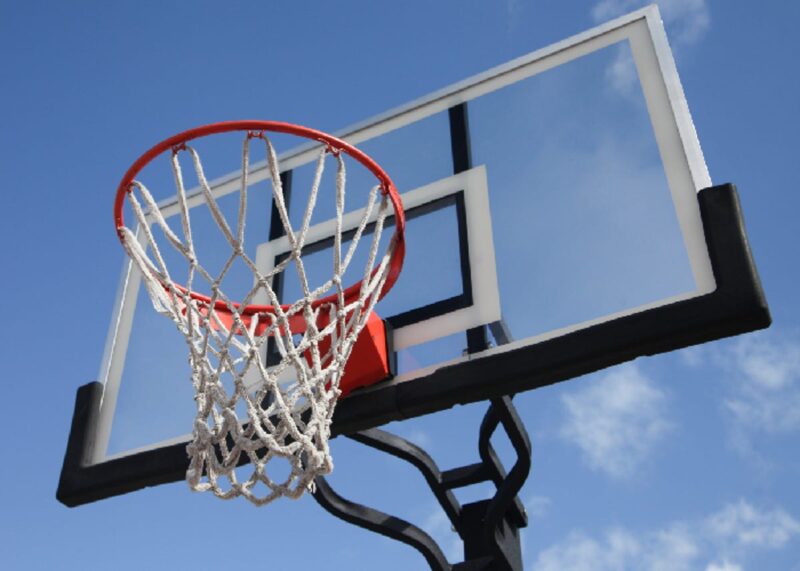 Is it better to put sand or water in a basketball hoop?
Sand is more suggested as filled in the basketball hoop base compared to water. The reason behind this, water evaporates and also causes deterioration. On the other hand, dry material like sand not only protects the hoop base but also provides better stability.
Are our portable basketball hoops safe?
Yes, these are safe to use. Sometimes, due to severe weather and UV rays, pole falls when dunking or due to power shots. So, if you protect your unit from weather wear and tear and use good quality products, you can enjoy your shoots without the fear of getting injured.
Is a polycarbonate backboard good?
Polycarbonate backboard is good and durable if not exposed to UV rays. It means it is suitable for indoor play.
What is the ideal size of a backboard?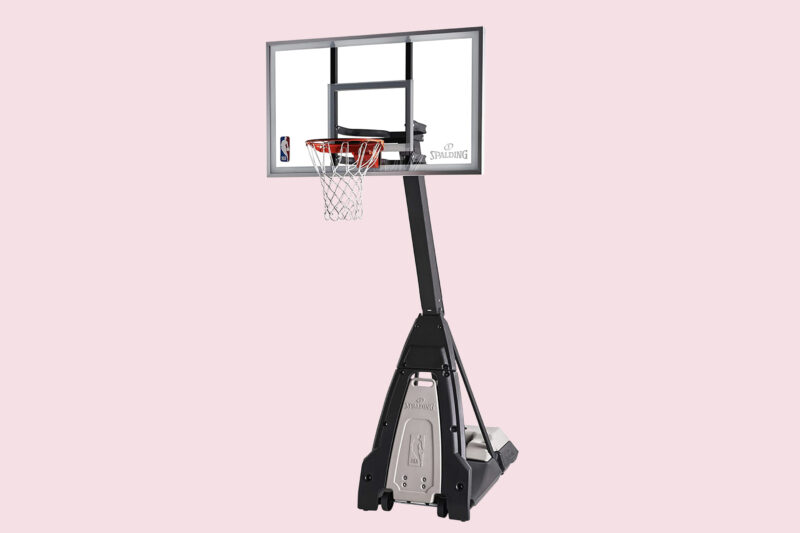 Well, it depends upon the use. If you are playing indoors, you can use 44 into 52in depending upon the door width. For outdoor play, 60 inches backboard is good. Just to let you know, NBA players use a backboard of 72in.
How big the base should be?
Indeed the bigger, the better. A wide and more capacity base is useful and provides extra stability while playing. But for kids, the smaller one is also good.
On the other hand, if you use an extra-wide base, portability may be reduced and become complicated.
Conclusion
All you need is to go through all the products one by one and choose the best basketball hoops for yourself. Down the list, a comprehensive buying guide also helps you in selecting your desired product.
If you are in a rush and want our best pick among the listed products, based on our research, we would recommend your best overall product Silverback NXT Basketball Hoop which is the best basketball hoop for you. Hopefully, you'll find our pick in the best interest of you.