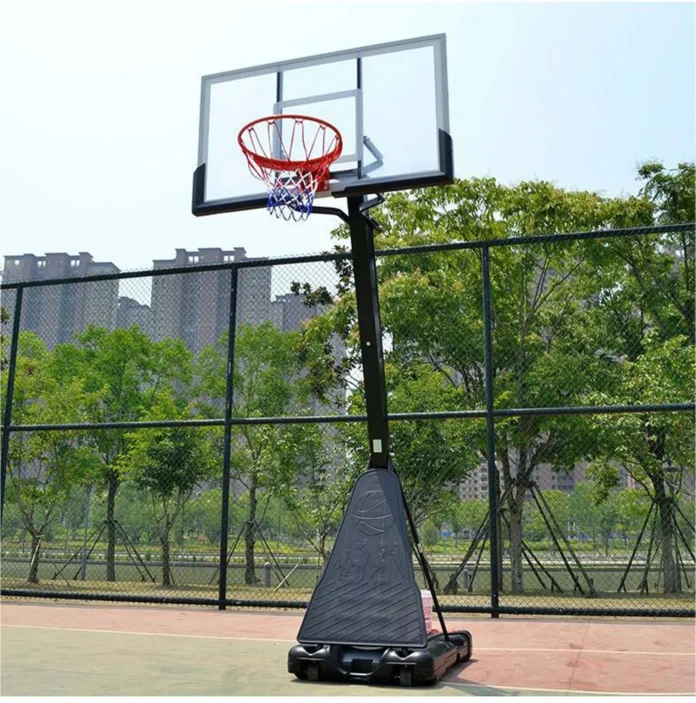 Are you a big basketball fan? If yes, then you may have a hoop at home, or you're considering getting one. Of course, you can quickly hit stores and walk out with a study basket and pole. However, to ensure every and anyone can enjoy the court game, a height-adjustable basketball hoop is your best bet.
In simple language, a height-adjustable basketball hoop grows taller or shorter. As you can guess, the advantage here is that it'll suit different players' preferences and needs. Kids can play, teens can play, adults can play. But there's more about how such a b-ball hoop operates, which we'll discuss here.
How a Height-Adjustable Basketball Hoop Works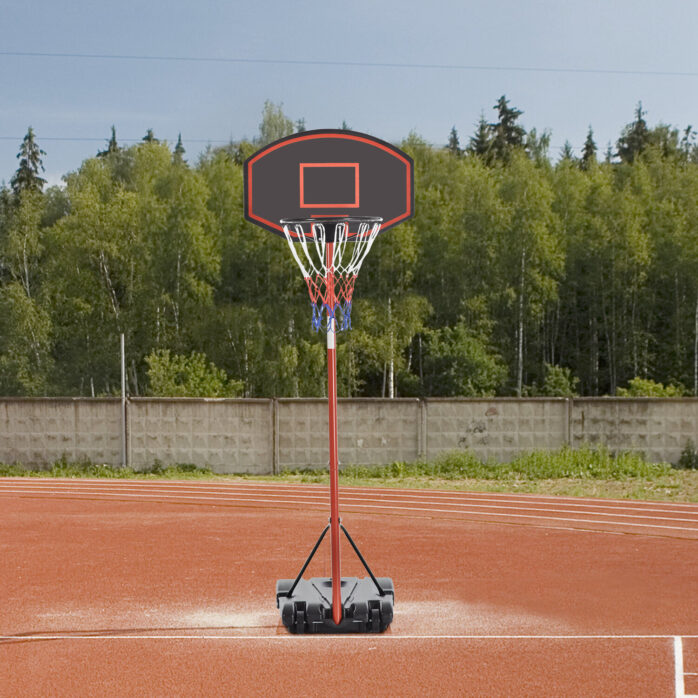 A height-adjustable basketball hoop uses a motion mechanism that lifts and lowers the backboard and rim. In particular, the mechanism adjusts to allow the backboard and rim to slide up and down along the pole. With this, the rim can hang at different heights.
Typically, when you have the hoop in a perfect position, you lock the mechanism so it doesn't shift. You'll find different models and types of height-adjustable basketball hoops. However, the majority will adjust the rim in three to six inches increments.
You may already be familiar with a basketball hoop, but if you're going to set up an adjustable one, it's ideal to still highlight the components.
Components of an adjustable basketball hoop
Like any regular basketball hoop, a height-adjustable one will feature a pole, base, backboard, and rim. These are the main components. What then makes the structure unique is the height adjustment system.
B-ball hoops can have one-piece, two-piece, or three-piece poles. However, for an adjustable one, you need as much stability as you can get. As a result, we advise a two or three-piece pole. For the base, you also need a sturdy structure. But another important factor to keep in mind is portability. Do you want the hoop installed in a fixed position, or would you prefer to move it around? For the former, you can fill the bottom with sand or cement so the hoop doesn't tip over. However, for the latter, you'll need a hoop with wheels.
Considering the backboard, the main focus is on the material. Glass, plastic, acrylic, or polycarbonate will work, but since it'll be sliding up and down, you need something lightweight and not much fragile. Following that, we recommend leaving out glass. A regular rim would do for your adjustable basketball hoop. Simply ensure it's quality and measured in the right diameter.
Now, let's particularly discuss the main component: the height adjustment system and motion mechanism.
Height adjustment system and motion mechanism
You can operate your height-adjustable basketball hoop using different motion mechanism systems. The most common, however, include crank actuator, telescopic, action-grip, power-lift, and electric linear actuator adjustment mechanisms.
A crank actuator adjustment system is workable if you're installing the hoop in-ground or with a wall mount. You operate using a crank handle, which, in our experience, doesn't offer the best convenience. Telescopic adjustment systems are common for portable basketball hoops. Here, the height is adjustable thanks to a locking pin holding the backboard and rim. It's simple, no doubt, but you have to operate it manually.
Considering the action-grip option, it's one of the easiest to operate, as you can do so with one hand. It employs a handle with a trigger release, and when activated, the handle glides and moves the backboard. Like the others, it requires manual operation. You can say the same about a power-lift motion mechanism. But they're helpful if you want infinite increments. For an ultra-seamless process, we recommend an electric linear actuator. Already, these devices are popular in many motorized lift systems.
The Linear Actuator Difference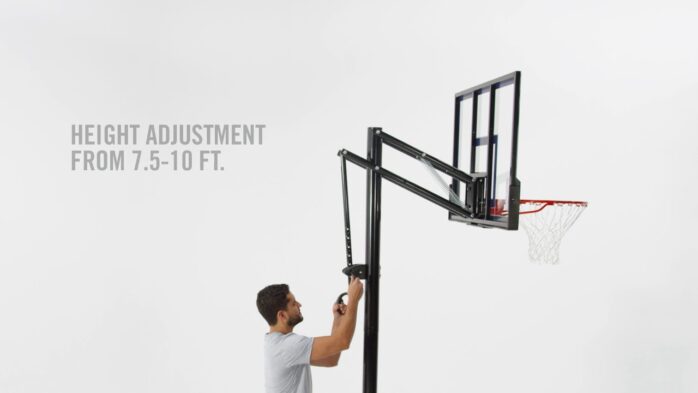 An electric linear actuator offers an automated operation unlike the other motion mechanisms. That means you won't need to go near your basketball hoop to adjust it. Instead, you use a remote control. Also, the devices offer higher precision. Most can set the hoop's height between 7.5 to 10 feet, allowing more customization and flexibility. If you opt for a rod-style linear actuator, you get even better precision, as they're telescopic.
It's also worth noting that linear actuators slide smoothly. So, you get minimal noise when you activate the device using your remote. Also, if installed properly, there'll be no jerking or clicking as the rim and backboard go up and down. Interestingly, this is just one of the many ways you can apply linear actuators at home.
Tips When Installing Height-Adjustable Basketball Hoop With a Linear Actuator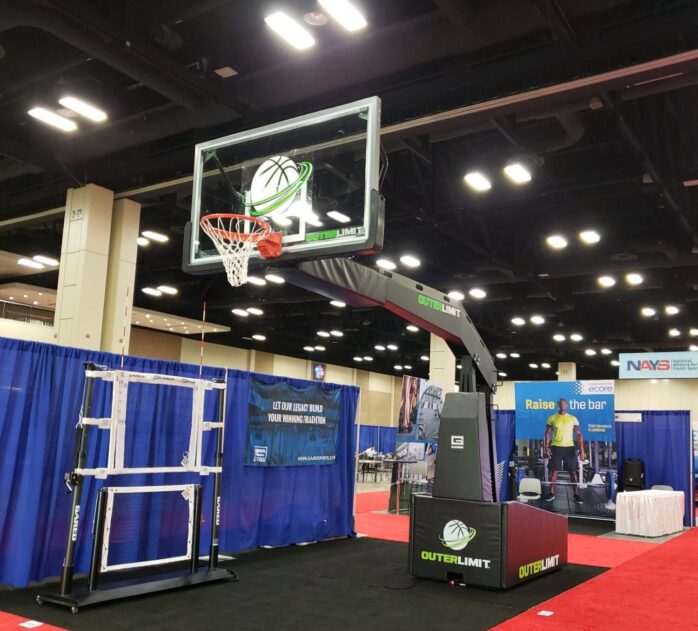 To ensure the height-adjustable basketball hoop operates optimally, you should consider certain factors when setting up. The most important is location. Why? Because linear actuators use a battery and electric motor. As a result, you need to place the structure where there's a power source.
Your best bet is getting a mobile hoop with wheels. That way, even if there's no power source around the court, you can take the battery inside to charge and bring it out afterward. This won't be an inconvenience, even if you carry the full structure indoors. You can adjust the height to the lowest position so it doesn't take up much space.
Another factor to consider is where you place the motor and battery. You don't want the brown ball regularly hitting them, as that can disrupt the setup. So, we advise placing the motor and battery behind the backboard and then using a protective casing to shield them. A simple board pad can also work. Check here and find the video and how it works.
Conclusion
Playing basketball at home shouldn't be limited to particular persons. But that happens if the hoop is placed in a fixed position, whether too high or low. When you get a height-adjustable basketball hoop, you ensure everyone can enjoy bouncing and throwing the brown ball. As explained, you can use different motion mechanisms for your adjustable basketball hoop. However, a linear actuator system is best for more convenience, precision, and smoothness.