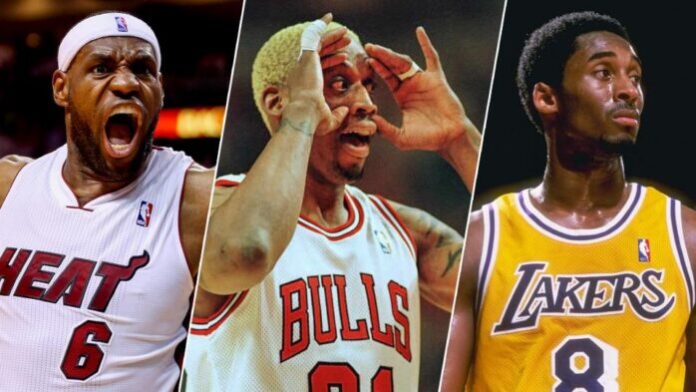 Basketball is a very popular sport around the world and one that people love to get involved with. This can be as a competitor on the court or as a coach off it. If you like to coach basketball, it is always a good idea to be researching new ideas to bring to the table or ways to help your players improve. A good way to do this is looking online for help or even studying pro games to see what strategies top coaches use.
In terms of watching basketball for fun or to get tips as a coach, the NBA is still the first place to head. As the sport's premier competition, it features the best sides and the best players to follow. It is also a great league to bet on, if you like to have a wager now and then. A good tip for sports bettors with this in mind is finding the top bonus offers to take advantage of.
This is true whatever sport you bet on, and a good general tip to take on board. Football is a great example and there is more information at thegameday.com about how bonuses work in NFL betting. Once you have got to grips with this, the same principles apply to using bonuses in NBA betting too.
Many fans also love following the NBA because of the drama and controversies it throws up sometimes. But which are the most shocking to know about?
1. The Malice at the Palace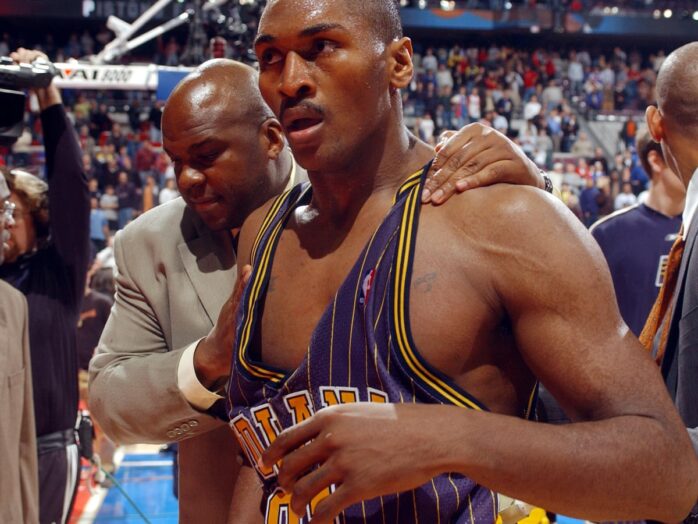 It is pretty safe to say that, for many, 2004's Malice at the Palace is the most controversial moment in NBA history. But what actually happened?
This controversy took place during November 2004's game between the Detroit Pistons and Indiana Pacers. At the time, the Pistons were defending champions and hosting the Pacers at the Palace in Auburn Hills, Michigan. The trouble began when Pistons center Ben Wallace tried a layup shot, with just 45 seconds left, to drag his team back into the game. Wallace, though, was fouled by the Pacers Ron Artest and a fight soon broke out on court between the teams.
It was what happened after this that leaves this moment in NBA history so infamous. While Artest was calming down from the brawl, a Pistons fan threw a drink at him from the stands. Artest lost his cool and charged into the stands to confront the fan. This started another brawl, involving fans and players from both sides.
2. Knicks and Nuggets brawl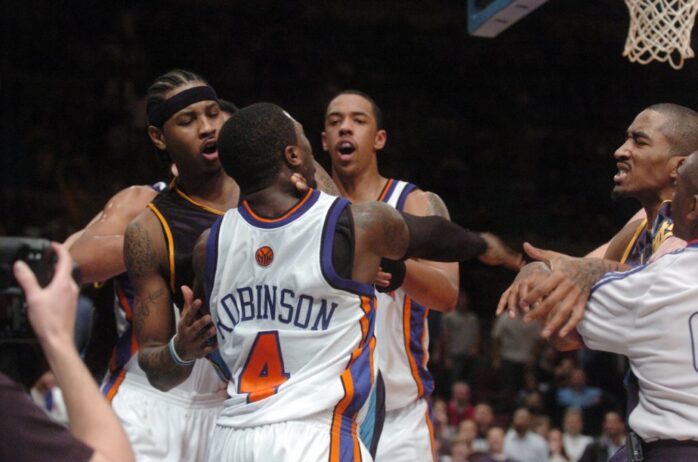 While information like the 10 best basketball socks is always good to know, there is nothing like digging into the drama buried in the sport's past. Another highly controversial moment is this fight between the Denver Nuggets and New York Knicks. This happened in a match between the sides in December 2006 – it's fair to say that not too much festive cheer was on show at the time!
The Knicks were hosting the game at Madison Square Garden and all seemed to be pretty normal going into the last few seconds. An obvious foul by Knicks player Mardy Collins, though, on J.R. Smith of the Nuggets soon changed that! Several players from each side squared off and things got physical. This trouble made its way into the stands, where fans began fighting as well. All 10 players were ejected from the court at the time and seven players were suspended without pay afterwards, for a total of 47 games.
3. Tim Donaghy scandal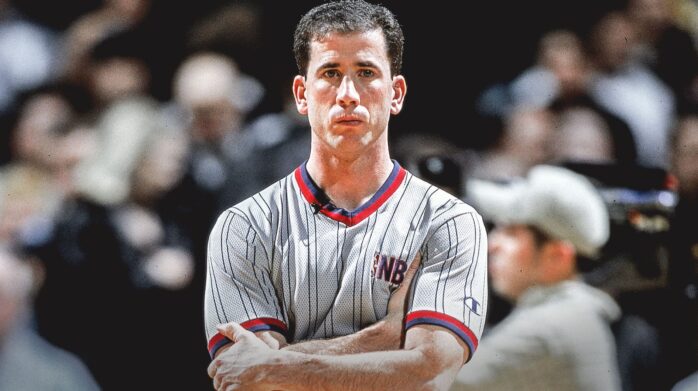 Although many controversies in the NBA focus on on-court drama, this is not always the case. The scandal around former NBA ref Tim Donaghy sums this up perfectly. Although a seasoned and respected official, Donaghy was actually busted for gambling on games and manipulating game outcomes to win these bets! To make matters even worse, it was reported that he did all this while working for the Mafia.
But how did this all come to light? In 2007, the FBI started to investigate a then-unnamed NBA official, due to allegations they had heard about gambling on games he had officiated previously. The investigation not only proved these allegations to be true but also confirmed that Donaghy had used his knowledge of other official bias against certain players and teams to win other bets.
Interestingly, despite NBA Commissioner David Stern insisting this was a one-off case, Donaghy maintained otherwise. He claimed that the majority of NBA refs bet on games and that officials used bad calls to keep games close, in order to extend playoff series.
4. The frozen envelope and Patrick Ewing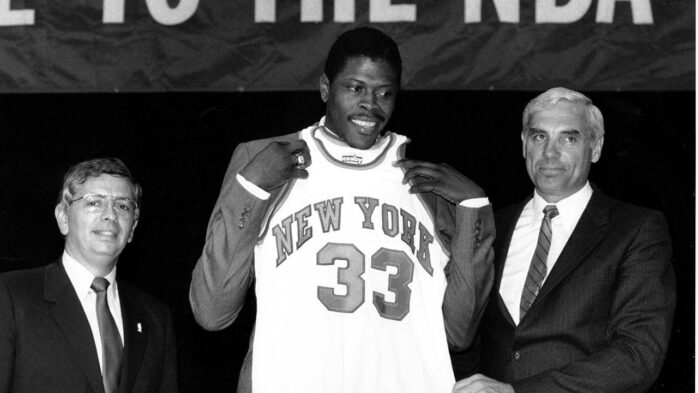 The aforementioned David Stern is something of a divisive figure for NBA fans and his name seems to come up a lot when there are allegations of misconduct. This stretches back a long way – even to the 1985 Draft lottery, for example!
In 1985, Patrick Ewing was the number one pick in many people's eyes and an obvious superstar in the making. Coming into the draft lottery, the Sacramento Kings had the highest odds of claiming first pick because they had most envelopes in the draw. In turn, this meant they had the best chance of getting first pick and bringing Ewing to their side.
However, this did not happen and many NBA fans to this day still find it a controversial moment. Rumors are that Stern did not want Ewing to go to a small-time side like the Kings and instead wanted him to become the face of NBA at a more well-known team. Speculation followed that officials froze the envelope belonging to the Knicks, so that Stern could easily tell it was theirs when pulling it out. Although we do not know if this is true, we do know that the Knicks' envelope was pulled out first by Stern, and they bagged Ewing.
NBA has seen some major controversies
There is no doubt that the NBA is basketball's premier competition. It is also without doubt that it has seen some major controversies over time. Luckily, these are not regular occurrences and the NBA is normally a place where the focus is firmly on the talent of the players or coaches. With this in mind, finding ways to improve as a player or coach is a great pursuit.