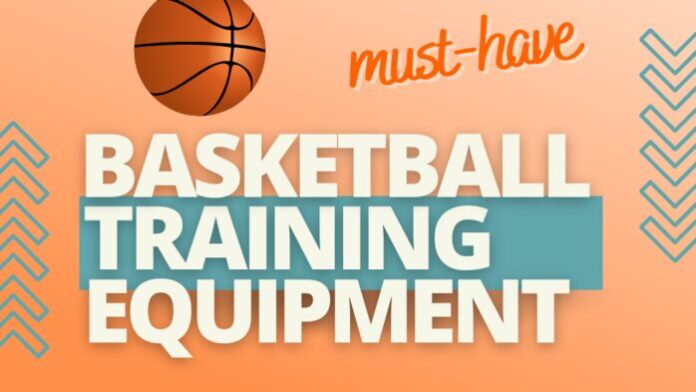 Most of the people love sports, and basketball is one of the most favourite games for many. There are people who play this game all year round. If you are new to this game or want to learn new moves, a little help can bring changes in the approach to the game and use new strategies as well. For this exact purpose, basketball training equipment was invented, and using this; you can improve your dribbling, footwork, shooting or strength.
Best Basketball Training Equipment Online
Investing in some good training equipment can certainly help you to ace the game. To help you with choosing a good basketball training equipment, we have compiled a list of best training equipment available online. So, keep reading to decide on the best equipment suitable for your purposes.
1. Mantra Sports Agility Ladder & Speed Cones Training Set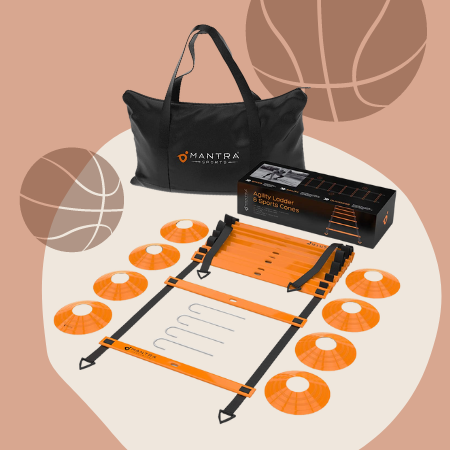 The first item from our recommended list is from Mantra Sports. If you want to improve your speed, quickness, and alertness, then this equipment is a perfect fit for you. It can be used as any strength equipment and is not specific to basketball alone. There is a 12 rung ladder as part of equipment where these rungs can be adjusted. You can use this foot ladder, speed cones to run, hop or skip according to your liking. This will improve your speed and also aids you in weight loss. You can train yourself with the equipment, and workout plans are also provided. You can improve your mind and body coordination and start focusing on things better.
Pros:
Improves your speed, quickness, and alertness

12 rung foot ladder and speed cones are provided

Customize your workout with hops, skips or run

Improve body-mind coordination.
Cons:
Some customers reported that the ladder gets tangled up
2. Pro Agility Ladder and Cones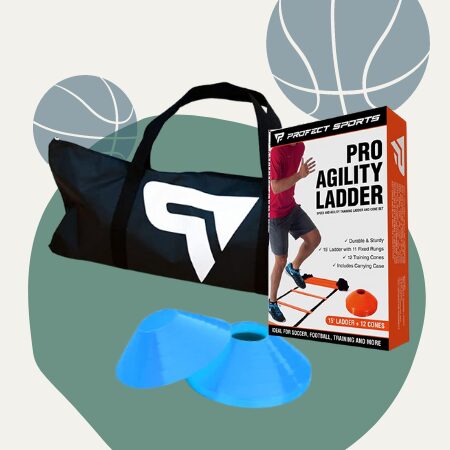 Next, on our list, is the Pro agility ladder and cones. This agility training equipment is perfect if you want to improve your strength in sports. It includes a 15-foot speed ladder, 4 ground anchors made of metal, 12 disc cones and a strong bag to carry them. The cones are quite flexible, and the ladder has durable rungs with riveted straps. They last you for a long time and you can use them for training season after season. The rungs are perfectly spaced not allowing any tangles which result in misplacing them with a single wrong move. You can improve your foot speed, fitness, strength, acceleration, which are required for basketball.
Pros:
Comes with 15-foot speed ladder, 4 ground anchors and 12 disc cones

Strong equipment bag for carrying the equipment

Durable and properly spaced rungs for untangled experience

Improves your foot speed, strength, fitness, etc.,

100% money-back guarantee
Cons:
3. Big B Pro Sports Premium Speed Agility Training Set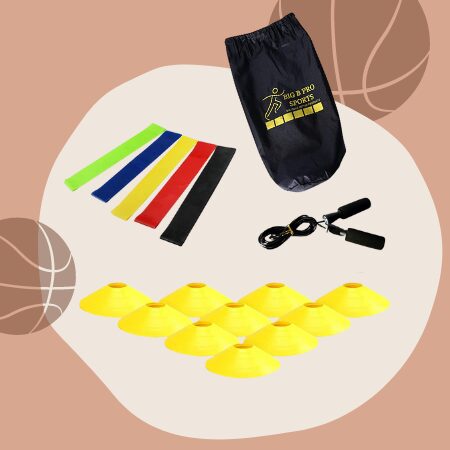 The next training set is a premium speed agility set from Big B pro sports. This set comes with a high-quality agility ladder, which is nicely packed, and you do not need to worry about tangling. The rungs are super sturdy and the ladder is adjustable to your requirements too. The set includes a parachute with an adjustable belt so that it matches perfectly to any waist size. It can be operated with a single click, and you can unlock the explosiveness. It also comes with super flexible cones and with a cute cone holder for organizing. The jump rope helps to improve your endurance and the resistance bands help to improve your muscle strength.
Pros:
High-quality agility ladder with sturdy rungs and no tangling

Parachute which has an adjustable belt and works with a click

Flexible cones, jump rope and resistance bands to improve your strength

100% money-back guarantee within 30 days
Cons:
4. XCELER8 Athletics DYNAMX Trainer Speed and Agility Training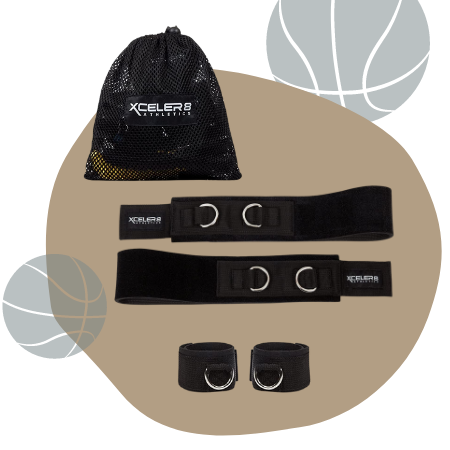 The next training set is from XCELER8. To improve muscle strength and lower body mobility, running resistance bands with velcro straps are provided. For vertical jumping, leaping, kicking, quickness improvement, 4 levels of resistance per pair is included. The ankle resistance bands help to improve muscle reaction, change direction rapidly, and improve acceleration, which is required for a basketball player. A vented carrying bag is included to carry all the equipment with ease. XCELER8 also provides online videos and guidance. It comes with a 12-month warranty.
Pros:
Running resistance bands with 4 levels of resistance

Ankle resistance bands

Vented carrying bag for comfort

12-month warranty and 100% money-back guarantee
Cons:
Some customers complained about the quality
5. INTENT SPORTS Agility Leg Trainer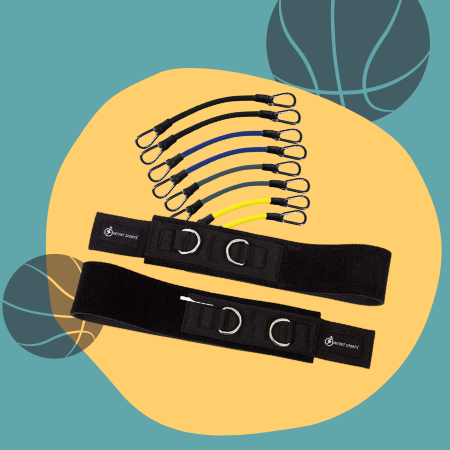 The last training equipment is from Intent sports. The leg bands come with good resistance and you can get a good workout for your muscles and butt. They help to improve strength. The stretching thigh strap gives very good padding without irritating the skin. These straps provide good muscle strength with good posture and not damaging any muscle. Using this specific leg trainer, you can get the strength, endurance, stamina, and flexibility required for sports. 4 different levels of resistance are available to get all the skills. The leg trainer can be easily carried using a small backpack bag.
Pros:
8 resistance bands for stronger muscles and butt

Stretching thigh strap for muscle strength and safety

4 different resistance levels to improve your sports skills
Cons:
Buying Guide To Choose Best Basketball Training Equipment
If you want to buy a perfect basketball training equipment, you need to know some factors that might aid you to decide. In this section, we are providing a buying guide for you to help make a decision.
Know Which Component to Improve
This is the major factor when looking for training equipment. The training equipment differs based on the requirement. For example, there is specific training equipment used to improve ball handling while there are others to improve physical strength. Some might want to improve their shooting skills. The major areas in the game have specific designed training aids. So, you should know beforehand about which aspect you would like to improve to end up buying the same training equipment.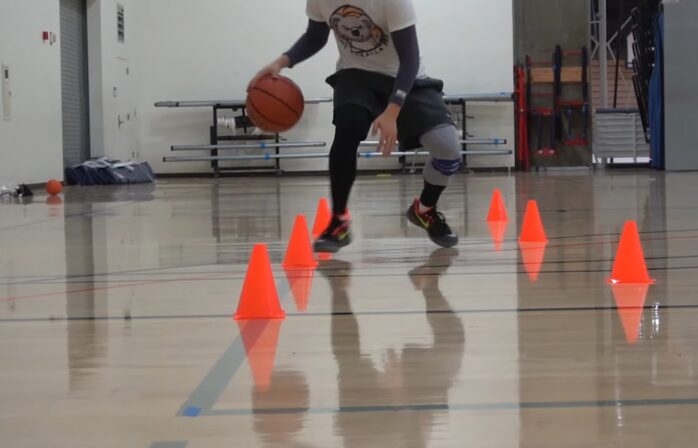 Price Matters
The basketball training equipment is not a joke when it comes to pricing. If you know what specifically you want to improve and are willing to spend a good amount of money, then the equipment is worth buying. On the other hand, if you are a casual player and do not know what to buy and later end up wasting the money, then it is not good. When purchasing the equipment, you need to be quite sure about what specifically you want to improve and then view the reviews for each product so that you will get what you want in a good budget.
Do Your Research
There is so many basketball training equipment that claim to do something and end up not giving the results. Then it is a waste of your time, energy and money. So, you need to research well on the product before buying rather than simply purchasing. Do an adequate amount of research before buying. You can do this by checking product details, customer reviews and also on the manufacturer. This can give you an idea of how much you can rely on the product.
Final Words:
Now, you know the factors to consider while purchasing the basketball training equipment like rim, net, hoop and more you will have a clear mind to make a decision. Go back to the list we have provided and check every detail of these items along with the pros and cons. Once you are satisfied, you can directly check out the product from the link provided.